How to activate Sibelius
Once you have purchased and downloaded Sibelius or Sibelius Ultimate and opened the application for the first time, you will be greeted by this dialog box:

Press "Continue Trial" if you are not yet ready to activate the program or would like to start as soon as possible.
The program works in the "trial" version fully for 30 days, ie you can write notes and archive them, but after 30 days you can no longer save your note files and must activate the program.
When you are ready to activate Sibelius, click on "Activate", which forwards you to the "Avid Link" utility, where on the left side you will see the tabs Profile, Home, Products, etc. Select Profile and log in to your Avid account with email and password. If all goes well, Avid Link will now download the necessary System and Activation ID codes to your account and activate the program.
The process may take 10 seconds, but in some cases it may take several minutes so be patient.
If you have multiple products in your account (eg previous versions), the automatic activation will not work. Then you choose the Products tab instead and click on Sibelius Ultimate.
Click on the arrow to the right and select the sub-menu "License"
Click on "Use License" to activate the license. IMPORTANT! If you want to use Sibelius on two computers at the same time, you must click on "take offline" before you click on "use license". If there is no check mark for "take offline", you can use Sibelius on more than two computers, but not at the same time. When you switch to a new computer, you can log into Avid Link and Sibelius will be activated until you log into the next computer. With "Take Offline" you lock the license to one computer, and you can do it on up to two computers. The "Take offline" option is not always available
It is also possible to activate without being logged in to Avid Link. You must then enter System ID and Activation in the respective fields.
To find your System and Activation ID, open your web browser (eg Firefox, Safari, Chrome, etc.) go to Avid.com, where you log in to your account, select View My Products and press "View Software Download links ". Then you see something in the style of the following image: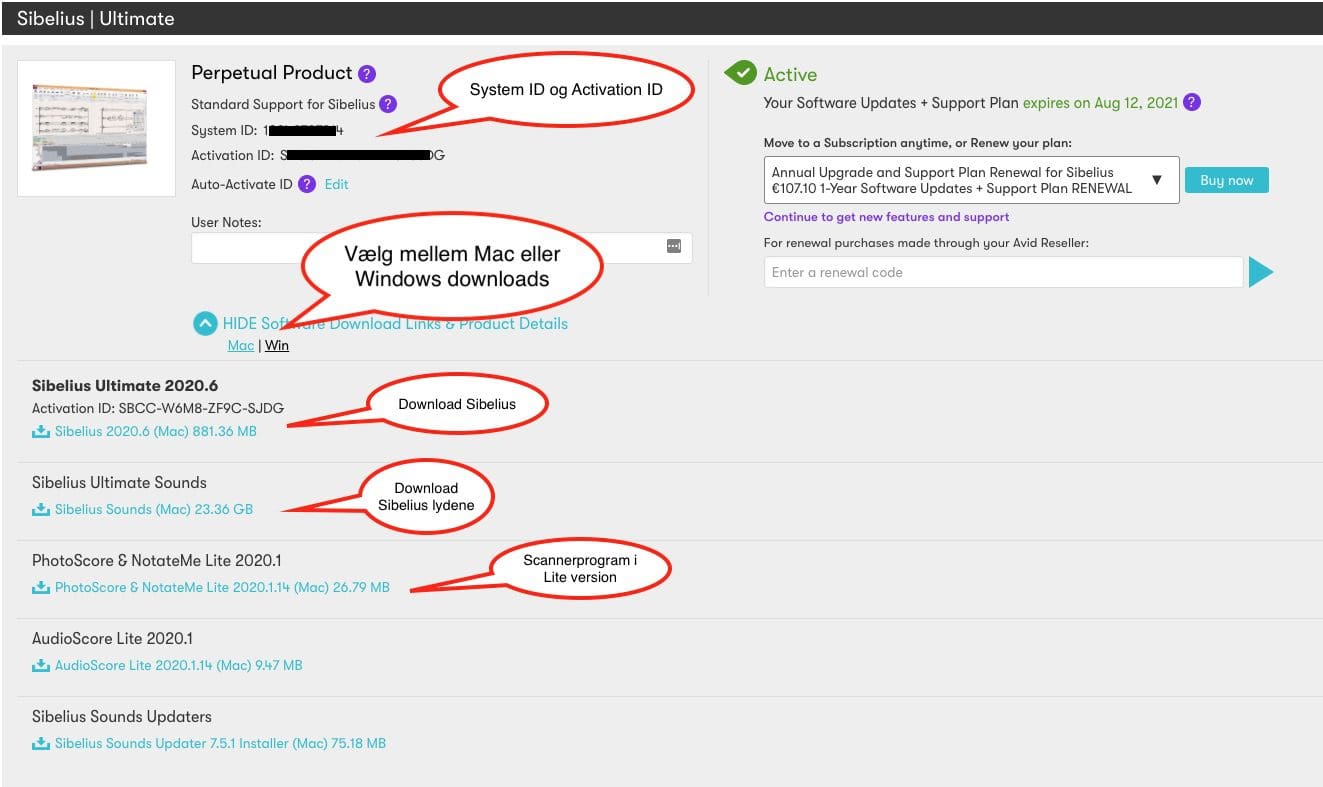 Below Perpetual Product is your System ID and Activation ID. You can copy the 2 IDs separately and paste them into the respective fields in Avid Link.
After this, Avid Link would like to announce that Sibelius is "successfully activated".
IMPORTANT!
If you are replacing your computer, sending it for repair, formatting the hard disk, or making other radical changes, first disable Sibelius in Avid Link under the Products tab. You can in principle deactivate and activate the program as often as you want, but Sibelius can only be activated on 2 computers at the same time.
ERROR in ACTIVATION
Sibelius cannot be opened even though it says "Activated". If you had an older license that has expired, Avid Link may activate the old version and you will receive an error message that your license has expired. In Avid Link, click on the tab with the three dots (just below "Profile") and select "sync account".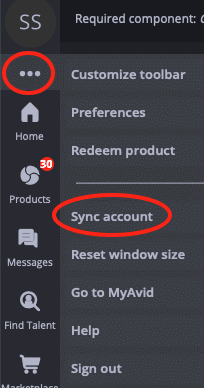 You will be logged out of Avid Link and when you log back in Avid Link will activate the correct license, If it still teases then log out of Avid Link and activate using the method where you manually enter the System ID and Activation ID as described above.
Offline activation
If your Sibelius computer cannot get online, or if the above methods do not work, you can activate with the offline method instead.
It can e.g. may be necessary if your computer is behind a municipal firewall that blocks the ports used by Avid Link.
The procedure is described in the Avid Link User Guide page 13.